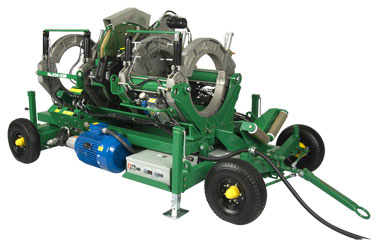 The MegaMc® 824 and the TracStar® 630 machines will butt fuse pipe sizes from 355mm to 630mm (14″ – 24″). Whether mounted on the vehicle or not, these revolutionary machines bring the flexibility of the smaller machines to MegaMc large-diameter fusion.
The McElroy MegaMc® 824 is a mix of muscle and versatility. Operators can butt fuse polypropylene pipe sizes from 355mm to 630mm.
The 824 features hydraulically powered assists for all fusion operations, including the jaws, pipe lifts, heater and facer.
The Rolling 824 incorporates a universal 4-jaw carriage that can be easily removed for fusion operations remote from the vehicle. For installations in limited space, the outer fixed jaw and skid can be removed from the carriage, converting to a 3-jaw carriage for tight installations.
The 824 features a powerful hydraulic facer for fast and efficient facing of pipe ends.
MegaMc® 824
• 4- or 3-jaw capable for improved close-quarter fusion
• Carriage can be easily removed for close-quarter use
• For confined spaces, can be converted to top-loading heater and facer
• DataLogger® compatible
• Rugged outriggers for stability
Product Enquiry