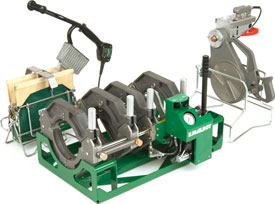 The new DynaMc® HP (Hand Pump) machines butt fuse pipe with a hand-powered pump and are available in 2- and 4-jaw models.
Worthy of the DynaMc name, the HP is a true dynamo, giving the operator a powerful fusion unit in a small package. With a detachable easy-lift cradle, the HP machine is easily maneuvered into tight spaces. The HP's electric facer is sturdy and powerful, with the option of being loaded from either side of the machine for improved convenience.
Features a double-action hand pump for fast carriage speeds.
Capable of up to 1500 PSI fusion pressure.
DataLogger® compatible
Rugged and compact.
Product Enquiry