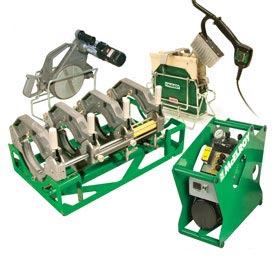 The DynaMc® 250 EP (electric pump) is a small, versatile fusion machine available in 2- and 4-jaw configurations. The low cylinder force machines were designed with a small footprint, allowing fusion operators to take the carriage into small working areas.
The 250 EP is powered by the DynaMc Electric Pump HPU which uses a hydraulic accumulator to maintain fusion pressures and reduce power consumption.
The manual carriage manifold of the DynaMc 250 EP is powerful enough to tackle thick-walled pipe and is paired with a strong electric facer that can be loaded from either side of the carriage. Capable of 400 PSI fusion pressures, the DynaMc EP is compatible with the DataLogger®.
Whether it is one fusion or 100, the DynaMc 250 EP provides the rugged reliability you expect from a McElroy.
Features a common Electric Pump that powers a variety of fusion machines.
Utilizes a hydraulic accumulator to maintain fusion pressure and reduce power consumption.
Employs McElroy's standard carriage and manifold assembly.
Capable of up to 1500 PSI fusion pressure.
DataLogger® compatible
Sidewall 28 and Compact 28 Vertical units are also available.
Package Includes:
DynaMc 250 carriage
DynaMc EP HPU (Hydraulic Power Unit)
Heater
Heater stand
Facer
Facer stand
Knife and edge jaw kit
Product Enquiry